Tel day time 07709949649
How I Sweep a Chimney Stack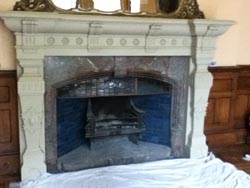 To start with I check the chimney stack from the ground, checking to see if any cowls or bird guards are fitted also this enables me also to work out how high the chimney stack is.
I then lay a plastic sheet down on the floor then a cloth sheet on top of that in front of the fire place to protect any carpets or flooring. I use white sheets so I can clearly see any soot that maybe on the sheets. Once this is done I look up inside the fireplace with a torch to inspect the chimney stack so I am then able to select what type and size of brushes and rods to use to clean the chimney stack.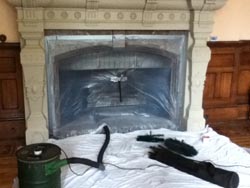 Then I set about bringing all the tools that I need to sweep the chimney, brushes, rods, industrial vacuum, etc. Once I have everything I need to do the job I then sheet up the fireplace and seal it so no soot can escape when sweeping. With the brush already fitted to the first rod and the industrial vacuum in place I start to sweep the chimney.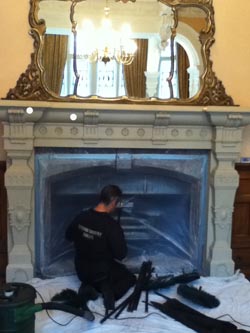 When I am happy no more soot is falling down from inside the chimney stack I stop sweeping and remove the rods and brush. I then remove the sheet sealing the fire place and inspect the chimney stack again to check it is clean. Then I then clean out the fireplace of any soot the vacuum may not of sucked up. Remove all my tools and sheets.
I then issue a certificate of sweeping to comply with you household insurance which points out any problems I may have found if any. I am always willing to have a chat and give any advice to all my customers. Picture the same procedure with sweeping stoves but using very flexible rods and smaller brushes made for this purpose. Picture pride myself on being tidy and never leaving any mess